My 2006 BMW K1200LT.

11,000mi (June, 2014)

NOTE: Clicking on picture opens high-res view in a new window


I purchased the bike on June 9th 2014.

This thing has bells and whistles that I didn't even know you could have on a bike.
Power Brakes, Power windscreen, Power locks, Cruise Control, Stereo, Heated grips, heated seats,
Xenon headlight, integrated alarm system with keyfob and starter disable.
The keyfob locks and unlocks all 4 storage compartments.

It's a bit of a beast, you have to respect that and handle it properly. I had read a number of reviews
before going to see it, definitely quite a change from my Suzuki. I was a bit concerned about a lot of
the comments that it was so heavy and so unstable at low speeds etc... But with a wee bit of adjusting
of low speed maneuvering, I am quite comfortable with the handling of it. If you want to, you can really
push it around the corners and it feels right at home doing that. It effortlessly sails along the straightaways.
I definitely am really liking that cruise control when you get out on the open roads it keeps me from
going much faster than I should be. I really am liking this thing. All that much bigger and heavier
and yet is gets almost the same fuel milage as the Suzuki.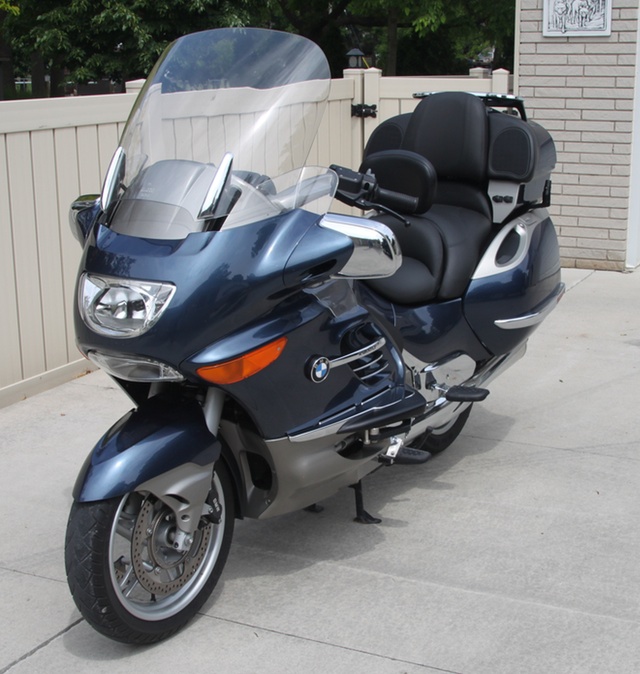 I will post more pics when I get around to it.

Any questions, go to my contact page to send a message.